Higg Index is a collection of various sustainability measuring tools covering brands, facilities and products. Higg is driven by the SAC (Sustainable Apparel Coalition) vision and has wide acceptance in the apparel industry, for assessing the environmental impact of apparel and guidance on how to lower it.
0.33
Global Warming
0.347 Kg
1.97
Eutrophication
0.002 Kg
0.018
Water Scarcity
0.038M3
0.244
Fossil Fuel Depletion
3.56 MJ
* Higg Score of Usha recycled cotton fiber estimated for 1 kilogram.
Usha Yarns has undergone the 'Higg MSI' material lifecycle self assessment for our recycled cotton fibers and yarns. Usha recycling process was measured on raw material, waste, water, energy, emission and chemical usage to report overall environmental impact based on the Higg analysis tool. We utilized the Higg Product tool to compare Usha recycled fibers with other sustainable or cellulosic alternative fibers which are popular among product development and designing teams working for global brands.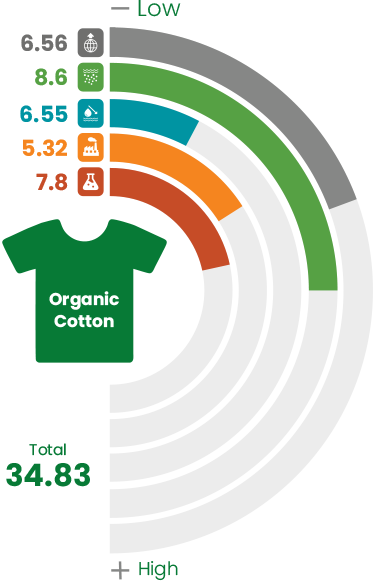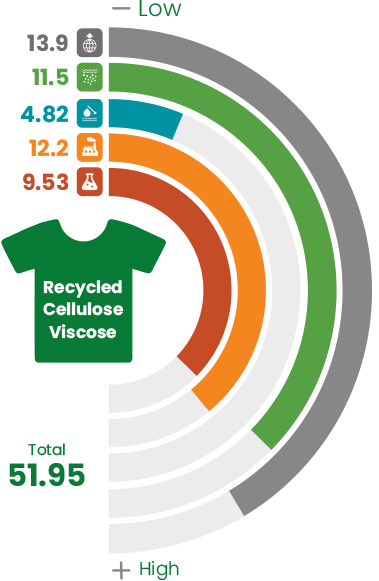 We happily declare that the overall Higg impact score of 1 kilogram coloured knitted fabric is 18.36 for garments having Usha recycled yarns, is among the lowest as compared to other textile materials listed on the Higg Index, as it doesn't need additional dyes or colorants. This score is specifically estimated for Usha Yarns raw material and spinning process (rotor, 250 DTEX-225 denier-24/1 Ne-40 Nm) while keeping other parameters standard at Higg MSI product module.
Your Savings with Fabrics made from
4.87
Global Warming
5.15 KgCO2
8.04
Eutrophication
0.008 KgPO4
33.40
Water Scarcity
72.43M3
5.36
Fossil Fuel Depletion
77.9 MJ
* Based on impact parameters difference between 60% Recycled Cotton + 40% Recycled Polyester and 60% virgin cotton+40% virgin polyester blends for 1 kilogram knitted fabric